Fat Bear Week Is In Full Swing At Katmai National Park & Preserve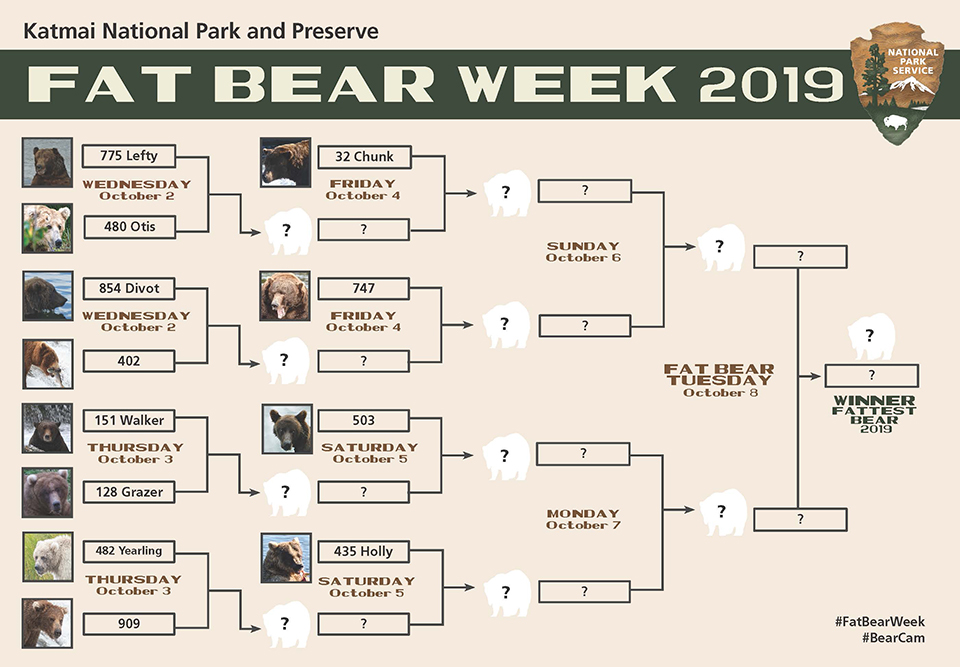 It's now Round 3 of the annual Fat Bear Week at Katmai Notional Park & Preserve!
"The annual March Madness-style competition, now in its fifth year, pits some of the well-known bears of the Brooks River against one another for the title of 2019 Fattest Bear. Bear Cam viewers and fans of Katmai's bears are the ones who decide which bear looks the fattest. The public is encouraged to vote on Katmai National Park and Preserve's Facebook page in head-to-head matches each day beginning October 2nd. The bear whose photo receives the most likes will advance to the next round, until one bear is crowned "Fattest Bear" on Fat Bear Tuesday, October 8th."
After the first day of competition, 775 Left has advanced to face off against 32 Chunk and 402 moved ahead to go up against 747. Those two match-ups will be decided today. In yesterday's action, 128 Grazer beat out 151 Walker and 909 defeated 482 Yearling, advancing this bear to face off against 435 Holly.
Voting continues today and through the weekend at the Katmai National Park and Preserve Facebook page. If you're a fan of these big bears and want a chance to see them very active before winter hibernation, this is your chance to do it in a pretty fun way.